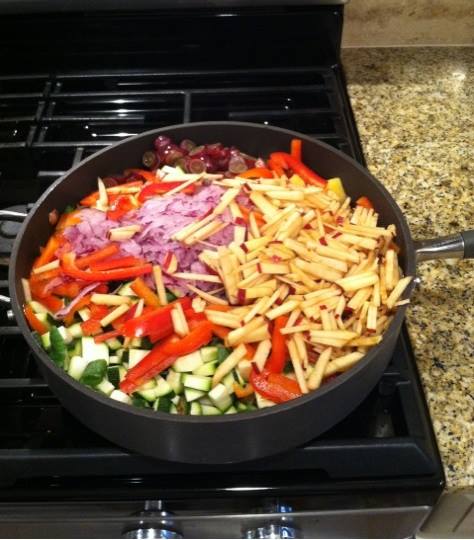 As promised previously, here is the tutorial for my Asian Stir Fry.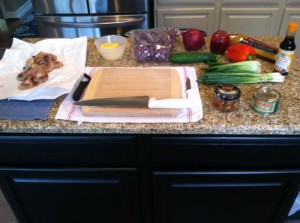 Set out all your ingredients
-1 lb shrimp (I used 10/15 here but you can easily use smaller shrimp if you like)
-1 small jar pineapple rings
-1 bag purple grapes
-1 red onion
-1 red bell pepper
-1 zucchini
-1 bok choy
-1 bundle chives
-10 oz bottle of teriyaki sauce
-1 bag of capellini (angel hair pasta)
-1 jar asian gourmet mushrooms
-1 can sliced water chestnuts
Not pictured:
-Olive oil
-Soy sauce
-Salt
-Garlic powder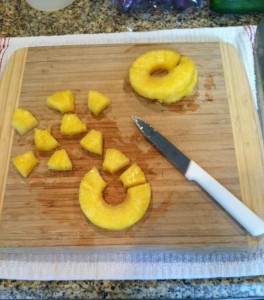 Cut your pineapple rings into 1/2″ chunks. You need about 1 cup. Set aside.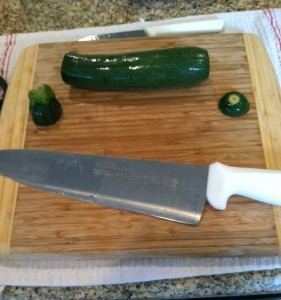 Cut the ends off of your zucchini. Discard.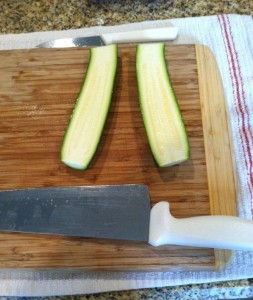 Cut zucchini in half long ways.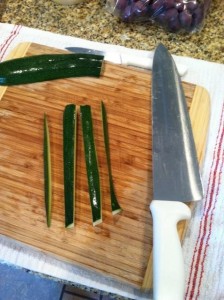 Cut zucchini half in 3-4 approx. equal strips.
Give the zucchini a medium dice. (about 1/4″ cuts) Repeat with rest of zucchini. Set aside.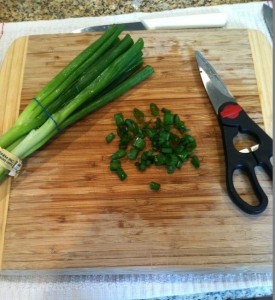 Use your kitchen scissors to cut the chives in about 1/4″ cuts. Set aside. Discard white bottoms.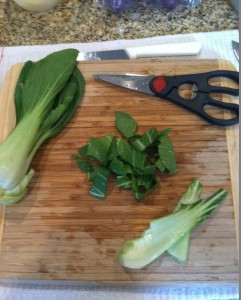 Cut the leafy part of your bok choy off of the stem. Discard stems.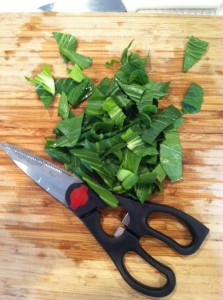 Cut your bok choy leaves into approx. 1/2″ x 1/2″ pieces. Set aside.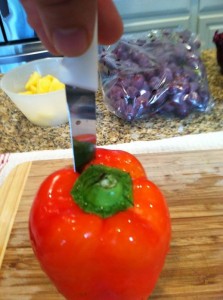 Cut around the stem of your bell pepper.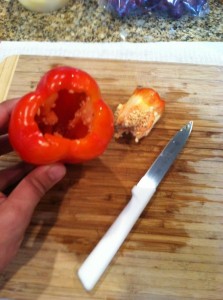 Remove the stem and seeds. Discard.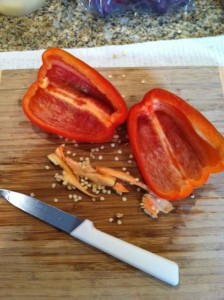 Cut bell pepper in half long ways.
Remove the ribs and remaining seeds. Discard.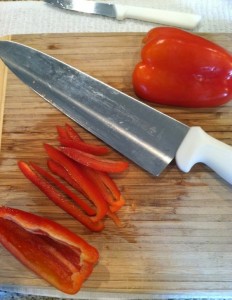 Cut bell pepper into thin julienne strips.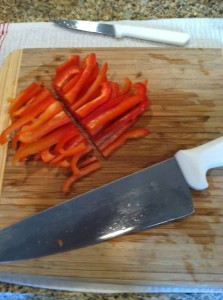 Give the bell pepper strips a chop down the middle.
You want approx. 1″ – 1 1/2″ strips.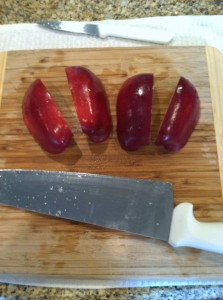 Cut apple into quarters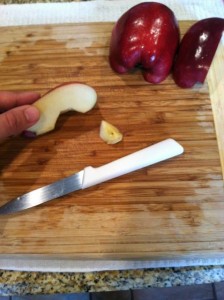 Remove the core. Discard.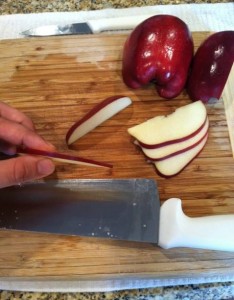 Cut apple quarter into thin strips.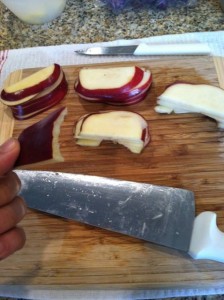 Repeat with the rest of the apple. You can eat the ends that are covered in skin.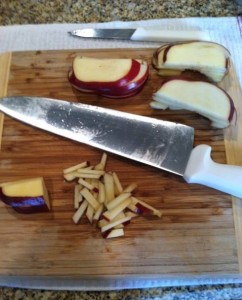 Cut apples into thin strips the other way.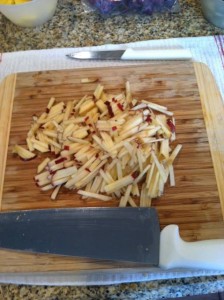 It should look like this. Set aside in refrigerator to prevent browning until use.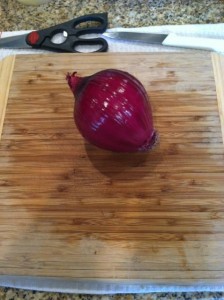 Remove outer skin from onion.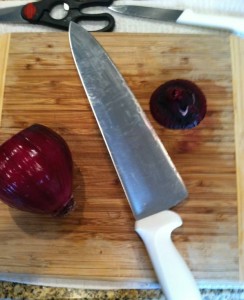 Cut the top off of the onion. Discard. (Leave the root end intact because it will keep your onion from falling apart)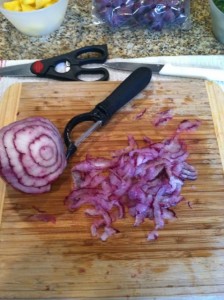 To achieve very thin strips of onion, use a potato peeler. Set aside.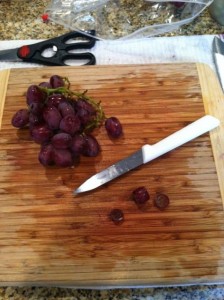 Cut ends off of a grape. Discard.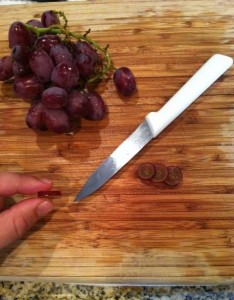 Cut grape in 1/2 or 1/3 to approx. 1/8″ thick.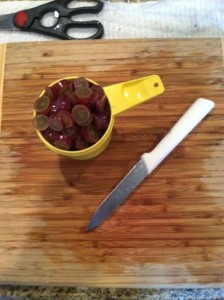 You will need approx. 1 cup. Set aside.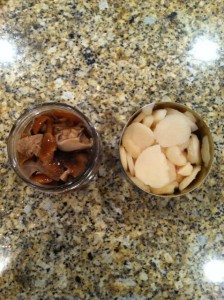 Open and drain mushrooms and water chestnuts.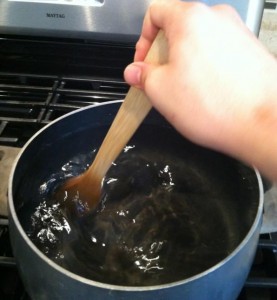 Fill a medium pot about 3/4 full of water and set to boil. Add approx. 1 tablespoon of salt.  Stir in salt to dissolve. Bring to boil. Add pasta.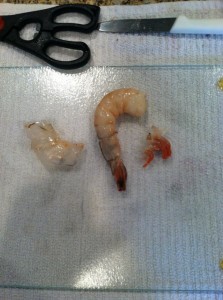 Remove shell and legs from shrimp. I left the tails on, but you don't have to if you do not want to.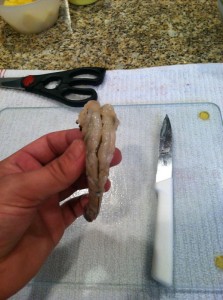 Run your paring knife down the "spine" of the shrimp. Do not cut all the way through. Just enough to expose the vein so you can get it out.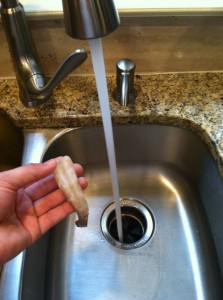 Run shrimp under cold water and remove the vein. Set aside.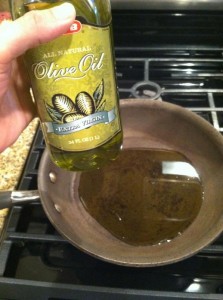 Add approx 2 – 3 tablespoons of olive oil to a small pan.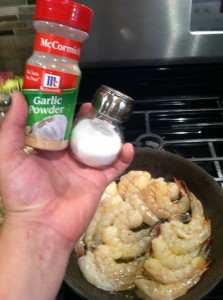 Add shrimp to pan and cook over medium heat. Add salt and garlic powder to shrimp. Approx 1 1/2 teaspoon each.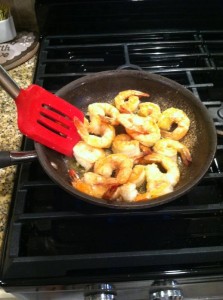 Cook 3 – 4 minutes on each side or until shrimp is pink in color and is firm to the touch.
After flipping, don't forget to season the other side.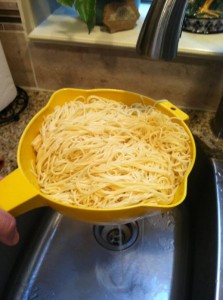 Pasta will not take long. When it is ready, drain the pasta. (Pasta is ready when it is completely soft. It is important not to overcook your pasta)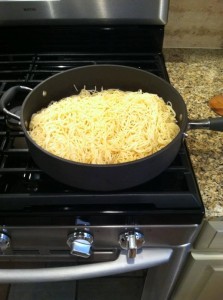 Transfer drained pasta to a large skillet.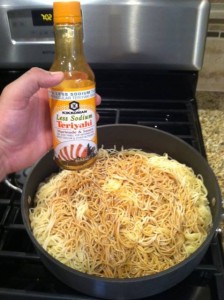 Add the bottle of teriyaki sauce.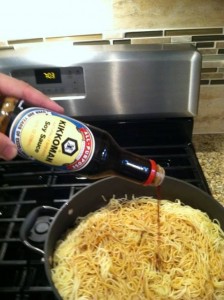 Add approx. 2 – 3 tablespoons of soy sauce.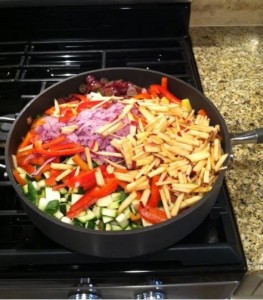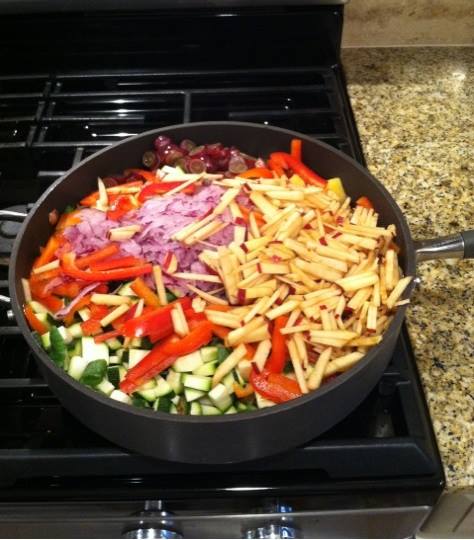 Add all of the ingredients that you prepared earlier. (zucchini, bok choy, chives, bell pepper, onion, apple, grapes, pineapple, water chestnuts, mushrooms) Stir to incorporate. Cook over medium high heat until all vegetables are warm throughout. Add approx. 2 tablespoons of olive oil to prevent from sticking to pan.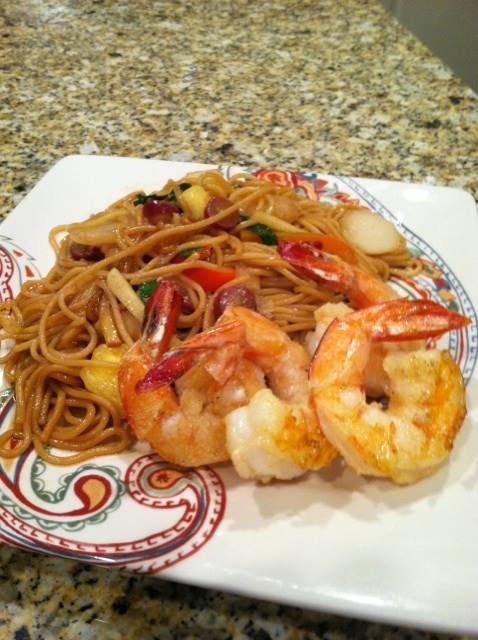 Serve and enjoy.
Contact me today to set up a time for me to cook for you.